Global Council for Happiness and Well-being Publishes 2nd edition of the Global Happiness and Well-being Policy Report
Published: 14 Feb 2019
The Global Council for Happiness and Well-being launched the 2nd edition of the Global Happiness and Well-being Policy Report at the 7th annual gathering of the World Government Summit in Dubai on February 10. It is produced annually under the auspices of the Global Happiness and Well-being Council, chaired by Professor Jeffrey Sachs and supported by the Prime Minister's Office of the United Arab Emirates.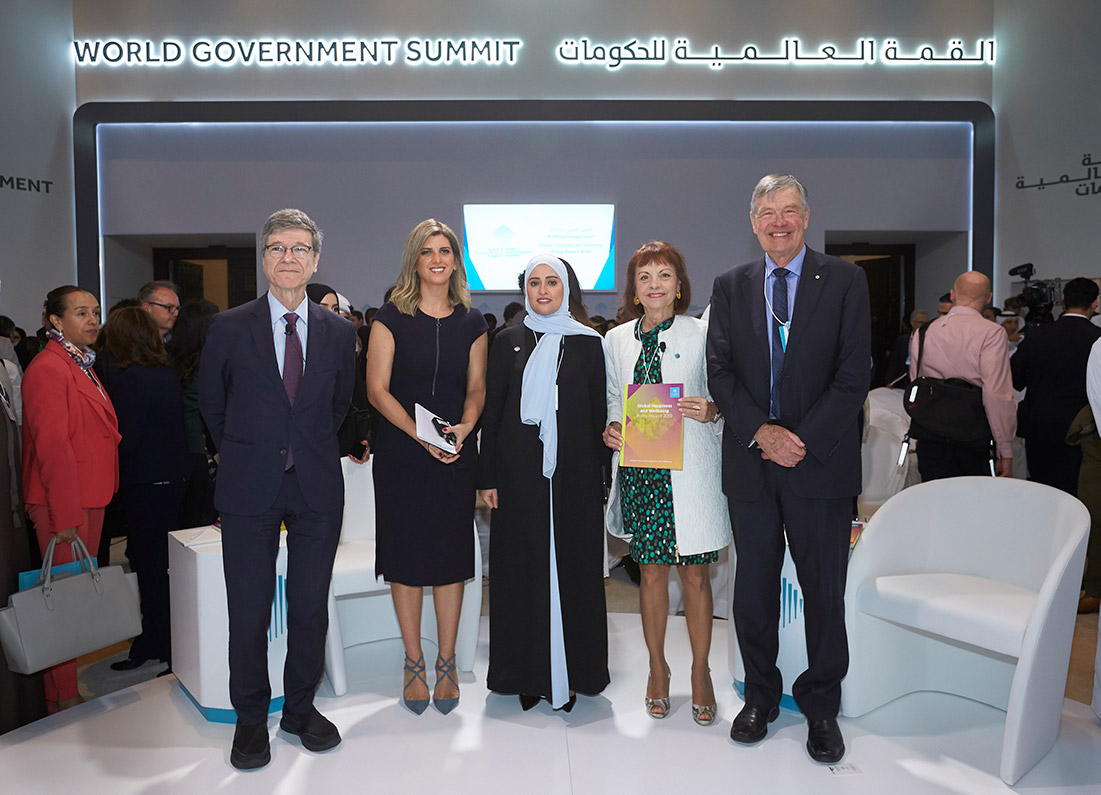 The 2019 report focuses on developing and presenting a set of practical policy lessons in the context of several thematic areas: health, education, employment, cities, personal happiness, and measurement and policy design, along with a synthesis chapter drawing the threads together. Using rigorous evidence and international case studies, the report not only presents best practices for effective methods to promote happiness and well-being via public policy, but also shows how governments can put them into operation, serving as a happiness and well-being policy implementation handbook.
The report includes the following chapters:
Introduction (Jeffrey Sachs)
How To Open Doors To Happiness (John Helliwell)
Priority Setting in Healthcare Through the Lens of Happiness (Tessa Peasgood, Derek Foster, and Paul Dolan)
Positive Education (Martin Seligman and Alejandro Adler)
Employee Well-being, Productivity, and Firm Performance: Evidence and Case Studies (Jan-Emmanuel De Neve)
Well-Being Interventions to Improve Societies (Ed Diener and Robert Diswar-Deiner)
Happy Cities Agenda (Aisha Bin Bishr)
Adopting a Well-Being Approach in Central Government: Policy Mechanisms and Practical Tools Metrics (Martine Durand)
An introductory chapter by Professors Sachs sets the stage by describing the global movement of governments, business, and civil society working to situate happiness and well-being at the center of public policies and measurements. Professor Sachs notes that "We have long known that GDP per capita is not a proper measure of societal well-being. Now we have rigorous and tested alternatives to measure happiness and well-being, as well as public policies that can successfully boost happiness and well-being."
The health chapter provides the most specific example of policy strategies being implemented according to the evaluation of their measured well-being effects.
In his synthesis chapter, Professor John Helliwell searches for common threads in the theme-by-theme analyses. He discusses the following key requirements for implementing happiness and well-being policies which emerge throughout the report: the necessity of comprehensive, top-to-bottom support for well-being strategies; the importance of specific examples to transform talk into action; the value of methods and mechanisms for developing cooperation within and across ministries; and the need for reporting and evaluating results. Professor John Helliwell said that he was "struck by the extent to which the successful examples represented partnerships for well-being, using collaborations between government, communities and NGOs. The cooperation and generosity involved in these partnerships are themselves sources of happiness and well-being for the policy makers and those for whom the policies are designed."
The Global Happiness and Well-being Policy Report 2019 was launched at the World Government Summit in a 10:00am panel on February 10th, led by H.E. Ohood Al Roumi (Minister of State for Happiness and Well-being, UAE, and Vice Chairman of the World Government Summit), Professor Jeffrey Sachs (Director of the Center for Sustainable Development at Columbia University and Director of the Sustainable Development Solutions Network), Professor John Helliwell (Senior Fellow of the Canadian Institute for Advanced Research), and H.E. María Manuel Leitão Marques (Minister of the Presidency and of Administrative Modernisation, Portugal).
MEDIA INQUIRIES: info@happinesscouncil.org